Welcome to Big Springs Clay Targets!



We are located in Christiana, Tennessee, just south of Murfreesboro in Rutherford County . We have eight (8) Trap fields, a Skeet field and Wobble. Our rustic club house with its large front porch with rocking chairs and a porch swing is a great place to relax and enjoy the company of friends.

We are home to some of the finest shooters in the country, from State Champions to National Champions in Singles events to National SCTP Champions many Middle Tennessee youth shooters call Big Springs Home!


Hours:
| | |
| --- | --- |
| Friday | 1:00 PM - TBA |
| Saturday | 10:00 AM - TBA |
| Sunday | 12:00 PM - TBA |
Call Club House at 615-890-6360 for current closing times.
Directions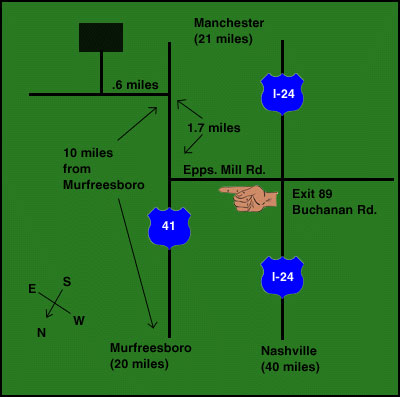 Rates


Under Rutherford County Zoning Ordinance we are a members only Club.
Yearly Membership Rates

Family Membership
$150.00
Individual Membership
$100.00
SCTP Coach
$25.00
SCTP Youth
$25.00

Daily Membership Rate is $5.00 per day.

Trap & Skeet $5.00 per round of 25 clays

Wobble $6.00 per round of 25 clays
Policies

» All members/shooters must check in at the club house before shooting on a field.


» Eye and ear protection are Mandatory for all participants and spectators.

» Shooters and Pullers only are allowed on the field.

» Shooters may not load or shoot without Big Springs permission or supervision.

» Load & unload on station only & keep muzzles down range at alll times.

» Two or more shooters may not fire at the same target.

» Do not enter the safety zone on the down range side of the trap houses.

» Only Big Springs Employees or trained coaches are allowed inside the trap/skeet houses.

» The only allowable shot sizes are 9, 8, and 71/2.

» All ranges will close with the onset of lightning - fields must be vacated.

» Alcoholic Beverages are prohibited.

» Only 9 Shot is allowed on the Skeet Field.

» Each Member/Shooter must prepay for the rounds they are going to shoot.

» As a member/shooter of Big Springs I understand that violating any of the above rules may subject my membership to suspension for a reasonable period of time.

» Problems or complaints about the club, another member, an employee should be directed to Mark Meshotto, either in person, by phone or e-mail.
Contact
Phone: (615) 890-6360
Email: contact@bigspringsclaytargets.com